Pregnancy isn't an easy phase in a woman's life or body. Your mental, emotional, as well as physical well-being goes through massive changes and occasional discomfort is obvious every now and then. Your feet end up getting swelled, and you face extreme uneasiness walking around, which is why one might easily wonder whether getting a foot rub while pregnant might help with this overall uneasiness.
As is well known, our feet are known to have certain pressure points which when massaged, do provide an adequate amount of relief and also help ease the swelling. But as many well-known medical practitioners and acupressure specialists claim, a foot massage during pregnancy can also be quite risky as it may lead to labor or to uterine contractions.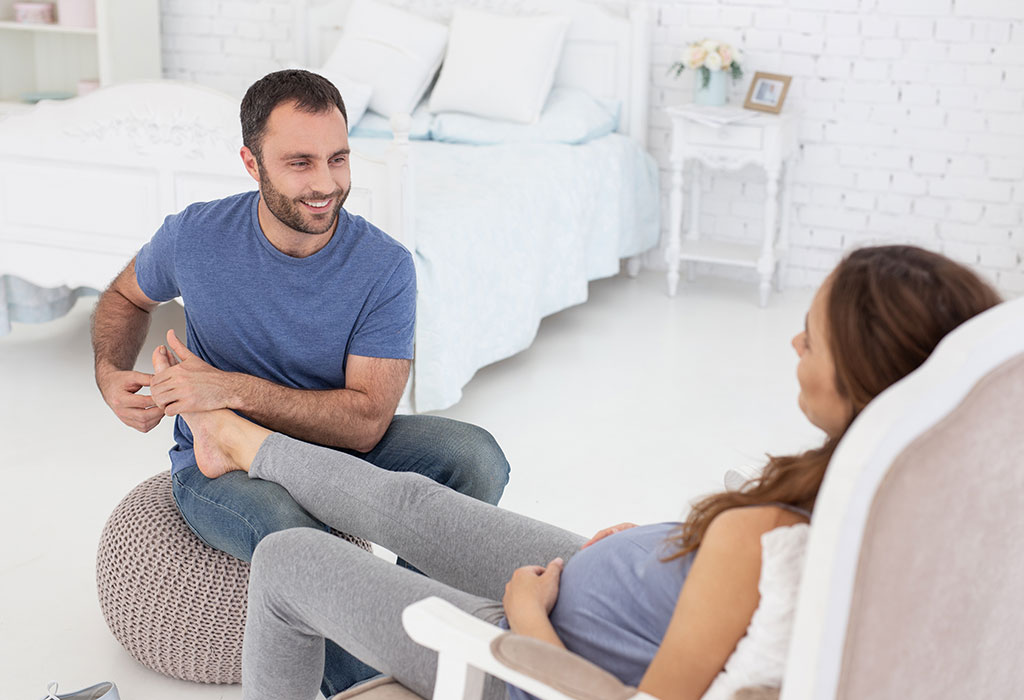 Foot massages though provide relief and can soothe your overall mental health and well-being during pregnancy, it is very important that you steer clear of certain specific pressure points which create a strong stimulus that may lead to cervical ripening. It is always suggested that in case a pregnant woman wishes to get foot massages she gets it done through a proper professional because else her pressure points might end up getting triggered.
Pregnancy leads to the overall bloating of the body. Not only that, you end up suffering from cramps all over your body, and since your feet mostly bear the whole brunt of it, it is obvious that you'd want to relax a little and feel comfortable, which a foot massage is sure to provide. This is why the answer to the question as to whether can you get a foot massage when pregnant is definitely a yes.
 Benefits of getting foot rub while pregnant
A pregnant woman usually has greater fluid retention in her body in comparison to a non-pregnant woman. This in turn leads to vein compression as the growth of the uterus ends up putting pressure on it. With the help of a foot massage, a pregnant woman is sure to experience some relief: thanks to improved and increased blood circulation.
Getting a foot massage also helps to induce a feeling of calmness and makes you feel peaceful and at ease, which in turn helps to improve your overall mental balance. This is especially considered essential for first-time mothers since anxiety and stress might get in the way of having a healthy term.
Pregnant women who go through bouts of depression or are on some medication can get foot massages to boost their emotional mood. In fact, having a positive mind frame, in turn, helps with a healthy delivery process as well as the delivery of a healthy baby.
There are certain areas you should avoid during a foot massage, as has already been mentioned above. Let us look at those areas in detail –
Avoid the SP6 Acupressure Point which is located in the inner area of the ankle right above the inner ankle bone because it ends up stimulating the lower abdomen which isn't considered beneficial for pregnant women.
Avoid the Urinary Bladder 60 which is located right behind the ankle bone on the outside in-between the main bone and Achilles tendon because this area is usually massaged to provide relief during labor pains, which is why it is suggested that you avoid it or be very cautious around it.
Avoid the Urinary Bladder 67 which is located on the baby's toe corner right near the toenail. It is considered a popular acupressure point to aid in contractions as well as to help get the baby in position during delivery.
Keep in mind that when you do decide on getting foot massages while pregnant, a reflexology method would be best suited. Also, the key pressure points as are mentioned above should always be avoided. Another very vital factor is excess pressure should also be avoided. Light pressure enough to soothe out the nerves and improve blood flow can be used
We hope this guide helps you in dealing with your pregnancy woes a little and makes the process a little smoother.
Hi, I am Valerie. I love working out and trying out various products which help me maintain my fitness. I love reviewing products related to posture and pain relief that will help people in some way. I like to spend my extra time swimming, Running and Wall Climbing. I am a physiotherapist and have helped countless people lead a pain free life.